Bitcoin Price Surges to 2020 record High $15,960
The Bitcoin price reached a new high for 2020 gaining over 12% in the last 24 hrs to reach $15,960 with many analysts predicting that the surge is set to continue to $17,000.
Over the last 24 hours, the price of Bitcoin (BTC) has surged by 12% and smashed through the $15,000 resistance for the first time since January 2018. The price of $15,960 is a new high for the year.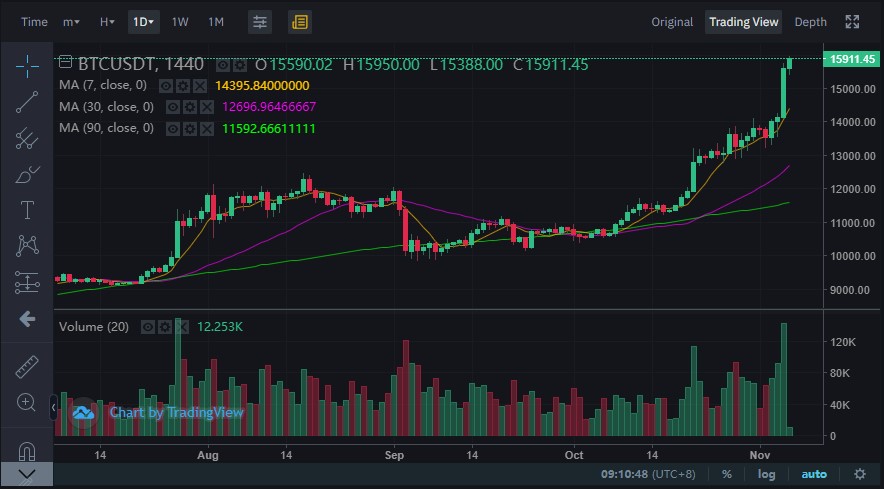 Source: Trading View BTC/USDT
According to data from Trading View, the BTC/USD pair has gained over $1800 dollars and 12.86% in the last 24 hours. According to crypto data analytics platform Messari, Bitcoin has now managed to stay above the $15,000 support for 20 days of its life-cycle, roughly 0.4% of its life.
Bitcoin's bullish behavior has been rampant in the lead up to the US elections and the prevailing uncertainty. While US presidential candidate Joe Biden is just six electoral votes away from victory, with officials continuing to count ballots in Georgia, Pennsylvania, North Carolina, Arizona, and Nevada. Head of Research at Blockchain.com and top UK economist Dr. Garrick Hileman told BtcEX.
BTC is also surging amid the news the US Department of Justice has seized more than $1 billion dollars from an anonymous hack who managed to crack a wallet connected with the infamous silk road.
For now, the BTC price surge appears set to continue with may analyst predicting we should reach $17,000 in the next few days, but get ready for some extreme volatility as the markets continue to watch the election results.